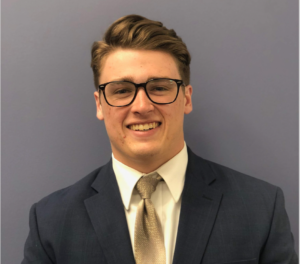 Matt joined the team in January of 2020 and will be working remotely as a Project Operations Intern for the entirety of his spring semester. He is a current undergraduate student at Millikin University in Decatur, IL where he is pursuing a Finance degree and is on track to graduate in May. Matt's only prior experience working in the solar industry was during his freshman year at Millikin when he joined a startup that focused on increasing solar panel energy efficiency.
Through his 4 years of school, Matt has worked for a financial planner, two insurance brokerages, and as a development intern for a child advocacy non-profit. He also has remained actively involved at Millikin, where he was a 4-year starting linebacker for the football team and provides guidance on several committees for business students and current student athletes. His experiences have prepared him to be an asset to advancing SCF's business operations and joining the fight for clean energy.
In his personal time, Matt likes watching college and professional sports, particularly his favorite Chicago Cubs. He also enjoys traveling, hiking, and playing strategic card games like euchre and poker.